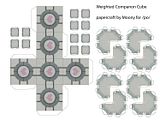 /po/ has delivered once again. Its a pretty simple and straightforward template. If you want it simple and easy, you can just focus on making the base cube. But if you want a little more accuracy on the companion cube's shape and form, then paste / add all of the extra details.
Just don't burn it this time

companion cubes need your love and attention
Template created by Moony on /po/
UPDATED: Want to make a more realistic companion cube? Ted Fallenger from /po/ has made a more realistic papercraft template for the weighed companion cube – at a price. The difficulty has been increased a little bit. The curves will be difficult, but as long as you follow the fold lines correctly, its would be easy. However, since this is just an early prototype, there is one major ingredient missing – The signature heart
Until then, we'll just wait for the next update.
UPDATED: Latest version of Ted's templates finally uploaded. Now features both the regular storage cube and the weighted companion cube – and yes, with the Heart!
Download Textured Weighted Companion Cube Template
Download Textured Weighted Storage Cube Template
(on rapidshare temporarily due to bandwidth limits)
12 Comments